Posts for tag: Extractions
By Alexandria Smiles Dentistry
April 12, 2020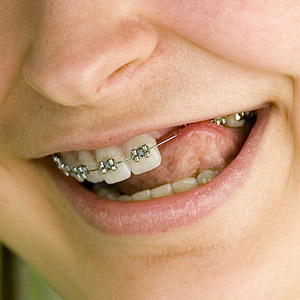 "To gain something, sometimes you have to give up something else."
No, that isn't the latest viral meme on the Internet. It's actually a practical consideration that could arise in orthodontics.
In this case, the "something" to gain is a straighter, more attractive smile; the "something" you may have to part with is a few teeth. This may be necessary if there are too many teeth on a dental arch for its capacity, a situation called crowding. A lack of space is the main reason teeth come in misaligned.
Before we can correct this, we'll need to free up space to allow for tooth movement by removing one or more of the existing teeth. The ideal candidates are those that are near to the teeth we wish to move but not highly visible. The first bicuspids are the most frequent choices for removal: they're located behind the cuspids or eyeteeth (the pointed teeth right under the eyes).
Ideally, we'll remove the target teeth some time before we apply braces to give the gums a chance to heal. At the same time we want to preserve the bone that once supported the teeth we've extracted. This is because when we chew the forces generated by the teeth stimulates bone replacement growth. When a tooth is no longer there the supporting bone doesn't receive this stimulation and may ultimately reduce in volume.
We may try to prevent this by placing a bone graft in the empty socket immediately after removing the tooth. The graft serves as a scaffold to encourage new bone to grow. Hopefully when we're ready to apply braces, the bone will be strong and healthy to handle the movement of the teeth.
As the teeth move under the influence of braces, they'll begin to fill up the space created by tooth removal. Once it's completed, the extracted teeth won't be missed — the other teeth now straightened will completely fill out the smile.
The different steps in this process must be carefully planned and executed precisely, and it will take months or even years to complete. In the end, though, this complicated bite problem can be corrected and replaced with an attractive, straight smile.
If you would like more information on correcting a poor bite, please contact us or schedule an appointment for a consultation. You can also learn more about this topic by reading the Dear Doctor magazine article "Tooth Removal for Orthodontic Reasons."
By Alexandria Smiles Dentistry
March 26, 2019
Isn't it time you understood more about this popular tooth replacement?
Want to replace your missing tooth with the next best thing to a real tooth? Wondering how dental implants work and what makes someone a good candidate for this restorative treatment? Our Alexandria, VA, dentist Dr. Moutaz Abdeen has been giving patients beautiful, full smiles thanks to dental implants and you could be next. But first, understanding more about this tooth replacement is key.
What is a dental implant?
An implant is a small titanium post that functions like tooth roots and is placed into the jawbone where your missing tooth used to be. What makes implants different from other tooth replacement options is that the metal post and the jawbone fuse together naturally over the course of several months to become one. Once this occurs the implant is a permanent part of your mouth, providing a strong and stable base from which to hold a crown or even dentures in place.
Who is a good candidate for dental implants?
People will be happy to hear that many healthy adults are good candidates for dental implants. In order to get implants you need to maintain good oral and general health, you must not smoke, you must have a strong healthy jawbone that can support the implant, and you must be dedicated to the lengthy treatment process of getting your new tooth. A consultation with our Alexandria, VA, restorative dentist will help you determine your candidacy for implants.
How long do implants last?
Another unique benefit of implant is that they fuse together with the jawbone, making them a permanent structure within your mouth. This means that as long as you maintain good oral hygiene and care for your implant properly this restoration could end up lasting the rest of your life.
Do I have to undergo surgery to get a dental implant?
Yes, you will have to undergo surgery. Fortunately, implant surgery is very minor and is performed right here in our dental office under local anesthesia. During surgery we will open up the gums to reveal the jawbone. From there, a small hole is drilled into the jawbone where the implant will then be placed. It takes about 45 minutes to place an implant and you can go home immediately after.
If you are living in Alexandria, Shirlington, or Bailey's Crossroads, VA, and want to find out if you are an ideal candidate for dental implants then call Alexandria Smiles Dentistry today to schedule your free consultation.