Posts for: December, 2020
By Alexandria Smiles Dentistry
December 20, 2020

Dental implants are a reliable way to replace teeth. More than 95% of implants survive ten years after their installation, and many of these could conceivably continue for decades.
But that still leaves a tiny few that don't reach the ten-year mark. Some fail early because the implant didn't integrate fully with the bone to create a durable hold. But others fail later—usually for one of two major causes.
Some failures occur due to over-stressing of the implant from abnormally high biting forces, usually because of teeth grinding. People who have this involuntary habit generate excessive force as they grind their teeth, which can damage implants (as well as natural teeth). To reduce this force, a patient's dentist can fit them with a biteguard they wear in the mouth to prevent teeth from making solid contact with each other during a grinding episode.
Fortunately, teeth grinding isn't that prevalent among adults—but that can't be said about the other major cause for implant failure: periodontal (gum) disease. This is a bacterial infection caused by dental plaque, a thin, bacterial film that accumulates on teeth. The implant itself isn't affected by the infection, but the gums and underlying bone supporting the implant can be.
Implants are most in peril from a form of gum disease called Peri-implantitis, which spreads deeper into the gum tissues around implants faster than infections around natural teeth. That's because implants lack the gum attachment of real teeth, which supply a collagen barrier that slows the spread of infection. Peri-implantitis can quickly infect the supporting bone and eventually weaken its connection with the implant.
Because of its aggressiveness and speed, we must diagnose and treat peri-implantitis as soon as possible to limit any damage to the support structures around an implant. If you notice any swollen, reddened or bleeding gums, you should call your dentist as soon as possible for an examination.
And in light of this potential danger to your implants, you should also strive to prevent gum disease through daily oral hygiene. Brushing and flossing your teeth, including around your implants, removes harmful plaque buildup. This daily habit and regular dental cleanings will help you avoid a costly gum infection and ensure your implants are there for years to come.
If you would like more information on dental implants, please contact us or schedule an appointment for a consultation. You can also learn more about this topic by reading the Dear Doctor magazine article "Dental Implants: A Tooth-Replacement Method That Rarely Fails."
By Alexandria Smiles Dentistry
December 08, 2020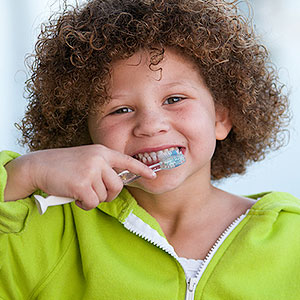 Fluoride is an important part of your child's dental development. But if children take in too much of this important mineral, they could experience enamel fluorosis, a condition in which teeth become discolored with dark streaking or mottling.
That's why it's important to keep fluoride levels within safe bounds, especially for children under the age of 9. To do that, here's a look at the most common sources for fluoride your child may take in and how you can moderate them.
Toothpaste. Fluoridated toothpaste is an effective way for your child to receive the benefits of fluoride. But to make sure they're not getting too much, apply only a smear of toothpaste to the brush for infants. When they get a little older you can increase that to a pea-sized amount on the end of the brush. You should also train your child not to swallow toothpaste.
Drinking water. Most water systems add tiny amounts of fluoride to drinking water. To find out how much your water provider adds visit "My Water's Fluoride" (//nccd.cdc.gov/doh_mwf/Default/Default.aspx) online. If it's more than the government's recommendation of 0.70 parts of fluoride per million parts of water, you may want ask your dentist if you should limit your child's consumption of fluoridated drinking water.
Infant formula. Many parents choose bottle-feeding their baby with infant formula rather than breastfeed. If you use the powdered form and mix it with tap water that's fluoridated, your baby could be ingesting more of the mineral. If breastfeeding isn't an option, try using the premixed formula, which normally contains lower levels of fluoride. If you use powdered formula, mix it with bottled water labeled "de-ionized," "purified," "demineralized" or "distilled."
It might seem like the better strategy for preventing fluorosis is to avoid fluoride altogether. But that can increase the risk of tooth decay, a far more destructive outcome for your child's teeth than the appearance problems caused by fluorosis. The better way is to consult with your dentist on keeping your child's intake within recognized limits to safely receive fluoride's benefits of stronger, healthier teeth.
If you would like more information on fluoride and your baby's dental health, please contact us or schedule an appointment for a consultation. You can also learn more about this topic by reading the Dear Doctor magazine article "Tooth Development and Infant Formula."