Posts for: May, 2021
By Alexandria Smiles Dentistry
May 11, 2021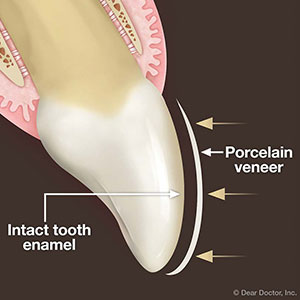 If you're looking for a cosmetic enhancement with a "light" touch, you can't beat dental veneers. These custom-made wafers of dental porcelain are bonded to the front of teeth to mask chips, heavy staining or gaps, revitalizing your smile.
But with traditional veneers, a minimal impact doesn't mean no impact at all. Although they're quite thin—often a millimeter or less—they can still look bulky when bonded to unprepared teeth. Dentists usually remove a small amount of surface enamel to help them appear more natural.
The alteration itself is painless, and only the bare minimum of enamel is removed. Even so, the alteration is permanent—the tooth will require a veneer or other form of restoration from then on. But a new kind of veneer may make it possible to avoid any enamel removal, or much less. These no-prep or minimal-prep veneers are even thinner, between 0.3 and 0.5 millimeters.
With these ultra-thin veneers, your dentist may only perform a little minor enamel re-shaping, particularly the sides of the teeth, to ensure a good fit. As thin as they are—akin to that of a contact lens—no-prep veneers can be bonded to the teeth surface without the need for fitting them under the gum line.
No-prep veneers are ideal for people with smaller than normal teeth, or that appear smaller due to other facial features. This also includes teeth that have worn down from age or teeth grinding, or those that are misshapen in some way. They also work well with people who have a narrow smile where less teeth than normal are visible in the "smile zone."
They can also be used with patients who have oversized or prominent teeth, but it may still require some enamel removal. The only qualification for anyone receiving ultrathin veneers is that their enamel is in reasonably good health.
Because there's little to no alteration of the teeth, no-prep veneers can be reversed. Removing them, though, is no easy task, so you'll still need to think long-term before obtaining one. All in all, though, no-prep veneers in the right setting can still transform your smile without much permanent change to your teeth.
If you would like more information on no-prep veneers, please contact us or schedule an appointment for a consultation. You can also learn more about this topic by reading the Dear Doctor magazine article "No-Prep Porcelain Veneers."
By Alexandria Smiles Dentistry
May 01, 2021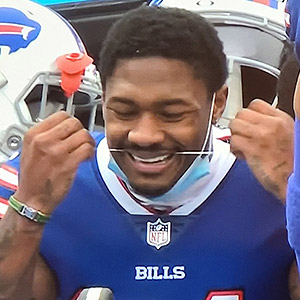 Buffalo Bills wide receiver Stefon Diggs wrapped up the NFL regular season in January, setting single-season records in both catches and receiving yards. The Bills handily beat the Miami Dolphins, earning themselves the second seed in the AFC playoffs, and Diggs certainly did his part, making 7 catches for 76 yards. But what set the internet ablaze was not Diggs' accomplishments on the field but rather what the camera caught him doing on the sidelines—flossing his teeth!
The Twitterverse erupted with Bills fans poking fun at Diggs. But Diggs is not ashamed of his good oral hygiene habits, and CBS play-by-play announcer Kevin Harlan expressed his support with "Dental hygiene is something to take note of, kids! There's never a bad place to floss" and "When you lead the NFL in catches and yards, you can floss anytime you want."
We like to think so. There's an old joke among dentists:
Q. Which teeth do you need to floss?
A. Only the ones you want to keep.
Although this sounds humorous, it is borne out in research. Of note, a 2017 study showed that people who floss have a lower risk of tooth loss over periods of 5 years and 10 years, and a 2020 study found that older adults who flossed lost an average of 1 tooth in 5 years, while those who don't lost around 4 teeth in the same time period.
We in the dental profession stress the importance of flossing as a daily habit—and Stefon Diggs would likely agree—yet fewer than 1 in 3 Americans floss every day. The 2016 National Health and Nutrition Examination Survey (NHANES), conducted by the CDC's National Center for Health Statistics, revealed that only 30% of Americans floss every day, while 37% floss less than every day and 32% never floss.
The biggest enemy on the football field may be the opposing team, but the biggest enemy to your oral health is plaque, a sticky film of bacteria and food debris that builds up on tooth surfaces. Plaque can cause tooth decay and gum disease, the number one cause of tooth loss among adults. Flossing is necessary to remove plaque from between teeth and around the gums where a toothbrush can't reach. If not removed, plaque hardens into tartar, which can only be removed by the specialized tools used in the dental office. Regular professional dental cleanings are also needed to get at those hard-to-reach spots you may have missed.
If Diggs can find time to floss during a major NFL game, the rest of us can certainly find a couple minutes a day to do it. While we might not recommend Diggs' technique of flossing from one side of the mouth to the other, we commend his enthusiasm and commitment to keeping his teeth and gums healthy. Along with good dental hygiene at home—or on the sidelines if you are Stefon Diggs—regular professional dental cleanings and checkups play a key role in maintaining a healthy smile for life.
If you would like more information about keeping in the best dental health, please contact us or schedule a consultation. To learn more, read the Dear Doctor magazine article "Daily Oral Hygiene."